Today we have a special guest blogger - Ashley from
A & C Book Junkies
!
A fellow Canadian blogger who with her BFF have been reviewing great novels!
About Ashley:
My name is Ashley and I'm a 23 year old undergrad English student with a BA in History. I love books and I will read about almost anything; I do not discriminate based on genre. Some of my favourite genre's include YA, YA paranormal and Urban Fantasy. However I also enjoy classics, historical pieces, and
of course Romance. Most reviews on Urban Fantasy, historical pieces and romance will come from me. I'm also a movie buff and love anything pop culture.
I love hearing what other people

have to say about books and participating in discussions about books I'm passionate about always makes

me happy. If you have any books that you love and want to share, please let me know

.
------------------------------------------------------------------------------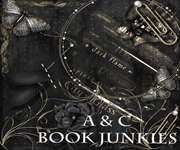 Romance novels have always held a special place in my heart. There is something so appealing about what romance novels have to offer. In most romance novels we are given a heroine who is independent, strong, and smart. Although there is always a man by her side to help, he is pretty much filling up the plot and appealing to the romance aspect of the novel. Our heroine uses him as a companion, equal, and lover. Rarely does he out shadow the female lead. They stay consistently equal throughout the novel.

A few writers of Adult Paranormal Romance that write in this manner are
Kresley Cole
,
Gena Showalter
, and
Stacia Kane
.


My love affair with adult romance novels started roughly at the time my first cries were heard in the delivery room of the hospital. Since I was unaware and unable to grasp the concept of the romance novel until later on in life, the idea of what would come to be a great passion of mine was swirling about in the atmosphere. My mom has always held a large influence over me when it comes to reading. When she would pick up a book and sit down to read, I knew it must be something exciting and thrilling. Why else would one person sit in a sort of solitary confinement with their nose in a book for hours?
I first began reading the genre of adult romance in grade 12 when a friend of mine insisted I start reading
Heather Graham
. Within a day, she had taken out from the library a Pirates Pleasure, and from there I was hooked. I spent that summer reading romance novel, after romance novel. Heather Graham was my new hero. She introduced me to a world, I had been ever so slightly been sheltered from. I began living vicariously through the heroines in these tales. Needless to say, far off exotic locations were a new favourite of mine.
Perhaps the most influential role my friend played in her introduction of romance novels in my life, was Bet Me by
Jennifer Crusie
. That book is one of my all time favourites and at least once a year I re-read it. I highly suggest this novel to any women out there who find themselves constantly being put down or putting themselves down. It truly sends the message that beauty is in the eye of the beholder and we need to embrace who we are.


Once the
Twilight
phenom hit, I found myself diving into the Paranormal Adult Romance genre with great velocity. I was able to rekindle my love for Heather Graham's writing with her more supernatural novels. I was also able to introduce my mother to a whole new world of authors and books. She must read about 1 new book a day –– all paranormal romance, all the time.
So why, then, does the world of adult paranormal romance appeal to me so much?

Well first, we are always given a strong and intellectual female lead; second, the men in these novels and these worlds are SWOON worthy, yummy, delicious...can I have one please? Not only are they HOT, they are caring, emotional, strong, empathetic, and willing to do whatever it takes to keep the love of their lives safe; third, these novels transport the reader into different times, supernatural worlds, and for a short period of time, we are able to escape the reality of our own lives. In a time when we are constantly plagued by cheating, divorce, and bad news, these novels act as a reprieve –– a chance to escape the chaotic world and even believe in love again.
------------------
Thank you so much Ashley for coming and guest posting for me today! Make sure you go and visit Ashley and Christie at
A & C Book Junkies
!

Here are some great paranormal romances: