Welcome to Stitch Read Cook's weekly feature!!
A Day in the Life of.....
This is where us bloggers & fans get a glimpse inside the days of our favourite authors!
------------------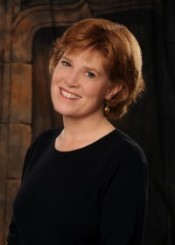 Margaret Mallory started out as a Midwest girl. Except for two years in Africa, she grew up in small towns in northern Michigan, where her dad was a county extension agent. She received degrees from Michigan State University and the University of Michigan Law School, and then headed to Washington, DC to save the world. When that failed, she packed up and moved to the Pacific Northwest for no reason except that it was beautiful and far from her last jobs and boyfriends. She admits to having a vague notion of finding herself a park ranger with a dog. The man she met was not a park ranger, but he was willing to get the dog. Marriage and children soon followed.

Margaret spent many rewarding—but rather wearing—years in jobs devoted to improving services for abused children and care for the elderly. Not long ago, she surprised (shocked?) her friends and family by abandoning her legal career—and steady job—to write novels. She is thrilled to spend her days writing stories of love and adventure, instead of going to endless meetings. After all, she has always loved romantic tales, heroic deeds, and happy endings. And, at long last, she can satisfy her passion for justice by punishing the bad and rewarding the worthy—in the pages of her novels.
A DAY IN THE LIFE with MARGARET MALLORY
On a normal working day, I spend most of my time on my laptop.
Most of the excitement happens inside my head.
So I decided to share a very special day with you instead. I was lucky to be able to take a trip to Scotland with my daughter to research the books in THE RETURN OF THE HIGHLANDERS series. My four heroes are members of the MacDonald clan on the Isle of Skye, so we spent most of our time there.
In one day, we visited the four amazing sites below, all of which play an important part in my latest book, THE CHIEFTAIN (THE RETURN OF THE HIGHLANDERS #4).
Here we are at the ruins of DUNTULM CASTLE, which I call Trotternish Castle in my books.
At the beginning of THE CHIEFTAIN, my hero moves to this recently re-captured stronghold.
KILT ROCK. I'm not saying what happens here, but isn't it gorgeous?
THE ANCIENT CEMETARY ON ST COLUMBA'S ISLAND IN THE SNIZORT RIVER
It looks peaceful in daylight, but strange things may happen here at night...
THE FAERIE GLEN, a place where spells are cast & magic can happen!
If you would like to see more of my pictures, I've created a book photo album to go with each book in THE RETURN OF THE HIGHLANDERS. You can find them on the Videos & Such page of my website, www.MargaretMallory.com.
Photos © Margaret Mallory
~~~~
THE CHIEFTAIN (THE RETURN OF THE HIGHLANDERS)

Four fearless warriors return to the Highlands to claim their lands and legacies. But all their trials on the battlefield can't prepare them for their greatest challenge yet: winning the hearts of four willful Scottish beauties.

A WARRIOR'S HEART

Connor, chieftain of the MacDonalds of Sleat, holds the fate of his people in his hands. Rival clans are plotting to take over his lands, and duty determines whom he will fight, trust . . . even marry. Seeking guidance, Connor turns to Ilysa, a young lass with the gift of foresight, who reveals an approaching danger-and a passion that burns only for him. But the warrior must make a powerful marriage alliance, and Ilysa's bloodline is far too humble.

With her powers to heal and see evil where others cannot, beautiful Ilysa dresses plainly, speaks softly, and loves her chieftain from afar. Yet when Connor finally stokes the embers of desire that have so long burned within her, Ilysa feels bliss unlike any she's ever known. Now as he is forced to place duty before happiness, Ilysa senses Connor is in grave peril. Can she find a way to prove she is the woman he needs by his side?
GIVEAWAY
2 lucky commenters will win a copy of Margaret's newest release
THE CHIEFTAIN
Open to residents of Canada & the US
No PO boxes please
Must be 18 or older.
a Rafflecopter giveaway