Welcome to our 4th Annual Romance Week!
Once again Chrystal from Snowdrop Dreams of Books and I are putting on our fabulous week long event filled with all sorts of wonderful romance, great authors and giveaways galore!
To kick things off this week I have the lovely Lisa Kessler and over visiting Chrystal is Stephanie Keyes!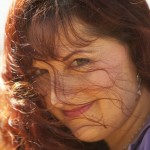 Lisa Kessler is an award winning author of dark paranormal fiction. Her debut novel, Night Walker, won a San Diego Book Award for Best Published Fantasy-Sci-fi-Horror as well as the Romance Through the Ages Award for Best Paranormal and Best First Book.

Her short stories have been published in print anthologies and magazines, and her vampire story, Immortal Beloved, was a finalist for a Bram Stoker award.

When she's not writing, Lisa is a professional vocalist, performing with the San Diego Opera as well as other musical theater companies in San Diego. You can learn more at http://Lisa-Kessler.com

She loves hearing from readers - LdyDisney@aol.com
Welcome Lisa! Thank you so much for joining us for our annual Romance Week event!
1 - What drew you to writing Romance to begin with?

I actually started out writing horror. I sold a few horror short stories to magazine and anthologies until I discovered paranormal romance. I really enjoy weaving romance into my paranormal stories... I think it makes for a richer and more urgent tale.
2 - Would you even write outside of Romance? If so, what genres? If not, why not?

Hee! Well I do still love a good scare so if I wasn't writing paranormal romance, I'm sure I could be lured back into horror. I've also got an urban fantasy series cooking as well.
3 - What is the most romantic place you've ever been?
Disneyland! There are some VERY romantic places in the park if you know where to look.
4 - If you could hop into any romance novel, what would it be?
Tough Question! LOL Hmmm... I think I would jump into Kelley Armstrong's Women of the Otherworld series... I love all the supernaturals in her world... :)
5 - Describe your book in 140 characters (a tweet).
He's a Slayer. She's a Black Belt. Together blood will flow and sparks will FLY. He'll slay her demons, but it may cost her heart.
Quick & Easy:
1. Book or E-book? - eBook
2. Day or Night? - Night
3. Coffee or Tea? - Tea
4. Plotter or Panster? - Panster
5. Dark or Milk Chocolate? - Milk Chocolate
6. Wallflower or Belle of the Ball? - Belle! LOL
7. Laptop or Desktop? - Desktop
8. Love at first sight or Second chances? - First sight
9. Angel or Demon? - Demon
10. Reality or Fiction? - Fiction

11. Author's Choice - what do you want to ask the readers? - What is your favorite aspect of paranormal romance?
He'll slay her demons, but it may cost her heart…

Four years ago Tegan Ashton was attacked. Determined never to be a victim again, she devotes her life to martial arts and self-defense. When her assailant returns to finish what he started, only one person can help her.

Gabe is a private investigator by day and demon slayer by night. After losing loved ones, he vows to defend people from a threat they don't realize exists.

The relationship is supposed to be strictly business, but fighting demons together stirs up emotions they never expected. Turns out demon slaying is a breeze compared to facing their scarred pasts and even worse – hearts.
Giveaway
One lucky commenter will win a copy of BEG ME TO SLAY
To enter – leave a comment for Lisa answering her question above.
Must be 18 or older. Leave valid email address where you can be contracted
(example: emailaddress (at) gmail (dot) com )
Ends – Feb 18th.